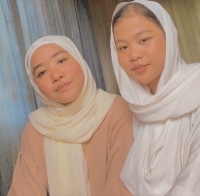 Hello honey bears!
When we first started, we had no idea what to expect running a small business of gooey goodness (literally!) with full passion over free flow creativity, resin and all things flowery. Tas.Kaca is a small home-based art store, that are based on
handcrafted resin pieces
starting from Instagram. Being two girls (and sisters) from a tiny
kampung
located in Malaysia
,
managing this small shop was nowhere near easy (without stable internet connection, or the long drives to the post office!). At first, this business wasn't a part of our long-term plan as initially we are crafting to fill our leisure time and as a part of saving. Being trending on Twitter for promoting our Tas Kaca Vol 1. was crazily unexpected! But here we are (yay!).
Being 22 & 18 (2020), this small store of ours capture all of our hustles be it the good or bad, constantly growing as a start-up local Malaysian resin artists. Discovering resin art and its imperfections as we go, we hope to best deliver our art to the lovers, while putting each and every love in them. Any pieces you own are a part of our growth and learning canvases. Each one we hold very close to our heart.

Hence, here's a big thank you to all of our Tas Kaca lovers! To all of our supporters, all the positive encouragements we've received, your orders, or even just a heart emoji comment on our post, here's to you! You made this two girls' dreams possible!

And to our new Tas Kaca lovers be it in Malaysia or internationally here's a warm welcome (with a big hug), thank you for your love towards our art!

J + A ( IG: @tas.kaca)